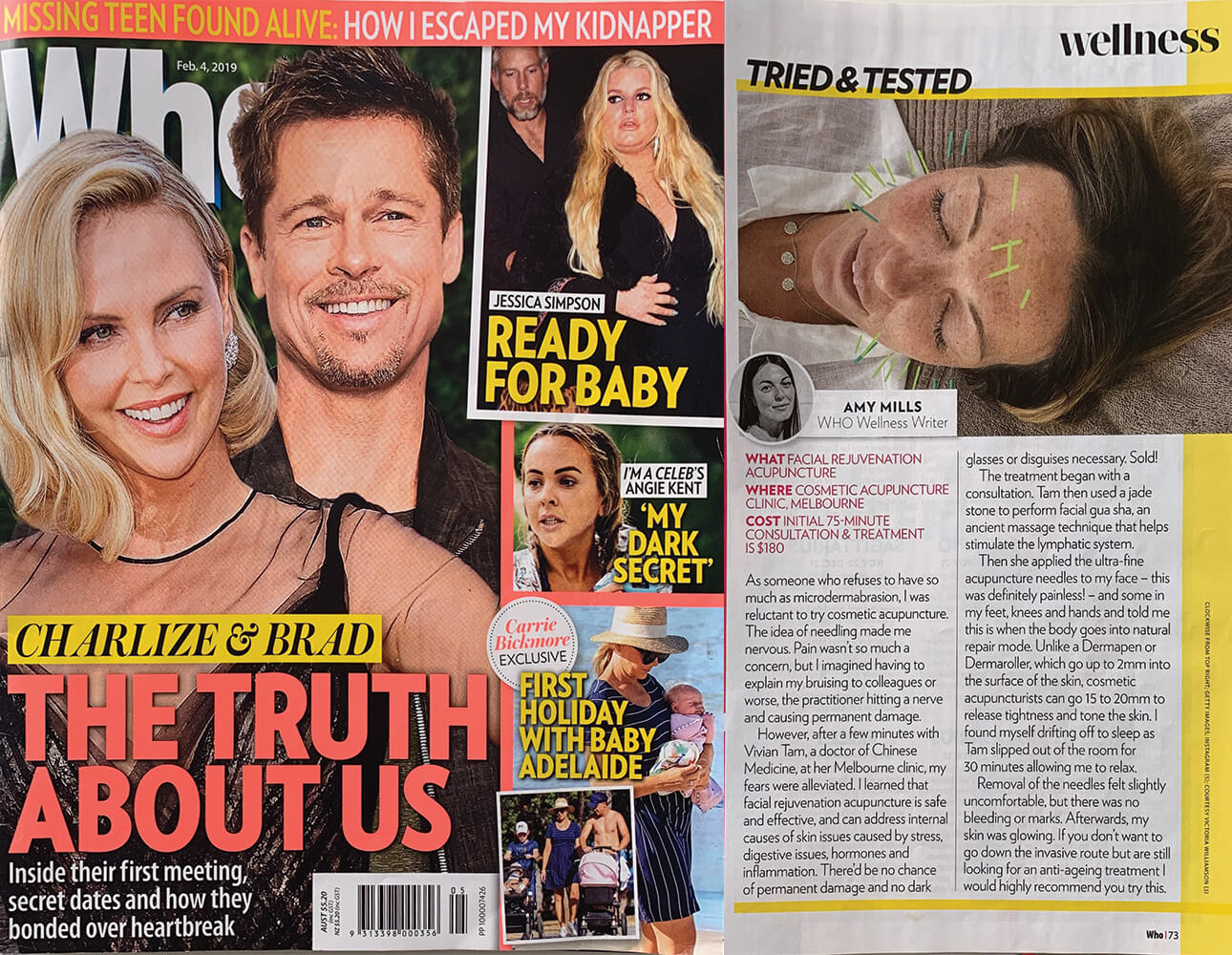 Tried & Tested: Facial Rejuvenation Cosmetic Acupuncture
By Amy Mills | Feb 4, 2019
WHAT: Facial rejuvenation acupuncture
WHERE: Cosmetic Acupuncture Clinic Melbourne
COST: Initial 75 – minute consultation & treatment is $180
As someone who refuses to have so much as microdermabrasion, I was reluctant to try cosmetic acupuncture.
The idea of needling made me nervous. Pain wasn't so much a concern, but I imagined having to explain my bruising to colleagues or worse, the practitioner hitting a nerve and causing permanent damage.
However, after a few minutes with Vivian Tam, a doctor of Chinese Medicine, at her Melbourne clinic, my fears were alleviated.
I learned that facial rejuvenation acupuncture is safe and effective, and can address internal causes of skin issues caused by stress, digestive issues, hormones and inflammation.
There'd be no chance of permanent damage and no dark glasses or disguises necessary Sold!
The treatment began with a consultation.
Tam then used a jade stone to perform facial qua sha, an ancient massage technique that helps stimulate the lymphatic system.
Then she applied the ultra-fine acupuncture needles to my face – this was definitely painless! – and some in my feet, knees and hands and told me this is when the body goes into natural repair mode. Unlike a Dermapen or DermaroPer, which go up to 2mm into the surface of the skin, cosmetic acupuncturists can go 15 to 20mm to release tightness and tone the skin.
I found myself drifting off to sleep as Tam slipped out of the room for 30 minutes allowing me to relax. Removal of the needles felt slightly uncomfortable, but there was no bleeding or marks. Afterwards, my skin was glowing.
If you don't want to go down the invasive route but are still looking for an anti-ageing treatment I would highly recommend you try this.