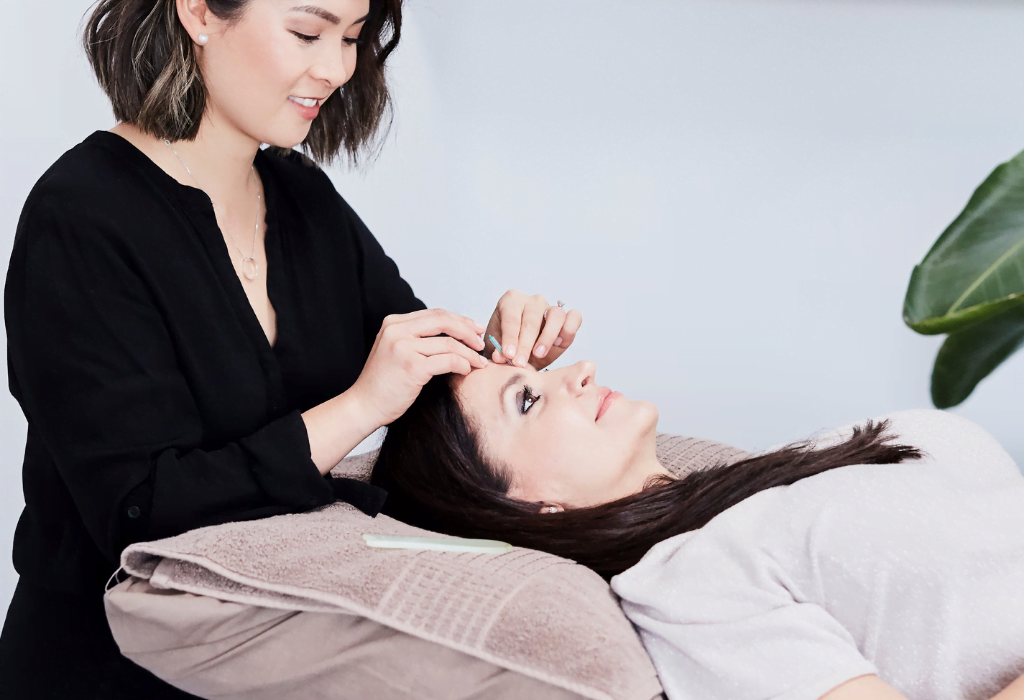 Very popular in recent years, cosmetic acupuncture is a celebrity-approved treatment used to transform ageing, acne-prone, scarred, dull and uneven skin. However, it's far from a new discovery. In fact, facial acupuncture has been used by Chinese Medicine practitioners for centuries.
A painless alternative to botox, skin needling and laser, the treatment is relaxing, uplifting and 100% natural. But what is cosmetic acupuncture, exactly – and how does it work? Read on to discover everything you need to know about going under the (ultra-fine) needle
What is cosmetic acupuncture?
Cosmetic acupuncture is a relaxing and rejuvenating beauty treatment that can improve the texture, tone and appearance of the skin. It involves the strategic placement of around 30 to 50 ultra-fine acupuncture needles in areas including the forehead, around the eyes, cheeks, jawline, neck and decolletage. These needles work at the skin level, as well as stimulating soft tissue and muscles.
What skin concerns does it address?
Facial acupuncture addresses numerous skin concerns and can benefit almost anyone* – from teenagers to mature clients of 50-plus. For those experiencing signs of ageing, it can help firm the facial contours and minimise the appearance of wrinkles. Improving blood flow and stimulating collagen production, it's also a powerful preventative anti-ageing weapon.
Other individuals who may benefit from cosmetic acupuncture include those with acne (or other) scarring, people with uneven skin tone or pigmentation, anyone with dry, dull or generally lacklustre skin, and some milder cases of acne. It can also help strengthen the skin and reduce skin flushing in those prone to redness.
How does cosmetic acupuncture work?
Cosmetic acupuncture is similar to skin needling, in that it creates a 'micro trauma' that helps to increase collagen production and reduce signs of ageing. However, the longer needles used in facial acupuncture are able to penetrate more deeply, with none of the discomfort or downtime associated with professional micro needling treatments.
At Cosmetic Acupuncture Melbourne, practitioners use a unique 'triple threat' technique, developed by Dr Vivian Tam. This works by:
1. Targeting muscles in the face to lift and tone. In your treatment, needles are placed in the motor points of the face – or the junctions between nerves and muscle. This sends a signal to the Central Nervous System and instructs the muscles to perform a beneficial action.
As tight muscles are instructed to relax, weak muscles are instructed to tighten or lift. Performed over a series of treatments, this technique helps to tighten, lift and tone the facial contours for a more youthful appearance.
2. Targeting skin and soft tissue to tighten, firm and reduce the look of lines. As we age, our natural stores of collagen and elastin decline, resulting in lax skin and fine lines and wrinkles. A form of collagen induction therapy (CIT), cosmetic acupuncture creates a painless, localised 'micro trauma' that sends the body into repair mode.
Helping to increase production of collagen and elastin, this may result in visibly firmer, plumper skin and a softening of fine lines and wrinkles. (Not just for mature skins, this technique is ideal for preventative anti-ageing.)
3. Improving blood circulation and restoring balance for radiant skin. CA also helps to promote free flowing Qi, remove blood stagnation, boost blood circulation and increase the supply of oxygen and nutrients to the skin. Acupuncture points in the body are also addressed to help restore harmony to the entire body, and promote healthy, hydrated and glowing skin, with a reduction in disharmonies such as redness and breakouts.
Intrigued? Follow the link to learn how cosmetic acupuncture can work for each age group.
* Those with moderate or severe acne are usually not candidates for cosmetic acupuncture. Pregnant women should also consult with their doctor before booking a consult.