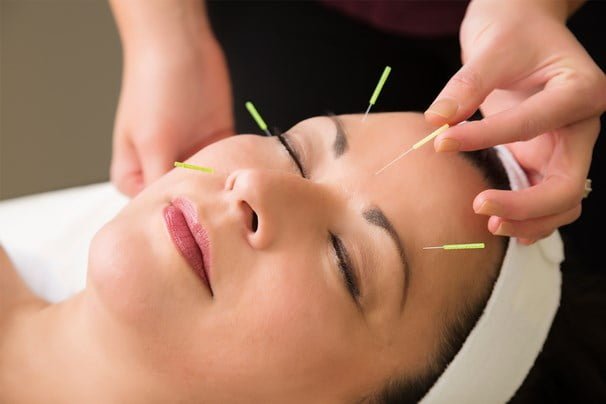 Everything you need to know about Cosmetic Acupuncture
By Hannah Hempenstall – 03 Oct 2018
Read the full article on Who here.
If you're looking for wrinkle prevention rather than going under the knife, cosmetic acupuncture may be just what you're looking for.
What is a cosmetic acupuncture facelift?
"The difference between a cosmetic treatment and a traditional or regular session is that you are having needles inserted in the facial skin, as well as through the body," says Vivien Tam (TCM), of Founder of Cosmetic Acupuncture in Melbourne.
"Cosmetic acupuncture involves facial acupuncture as well as regular acupuncture in one session. The focus is on the facial skin for anti-ageing and skin health, acne and other skin conditions, but there is also a focus on treating the body system as a whole to relax and rejuvenate."
Is facial acupuncture safe?
As long as you're being treated by a qualified practitioner you're in safe hands and surprisingly – it doesn't hurt. Beware of imposters though. Check your practitioner is a member of an association such as the Australian Acupuncture and Chinese Medicine Association.
How does face acupuncture work?
According to Traditional Chinese Medicine, the meridians govern each of the organs and many of those lines begin or end on the face. The kidney meridian sits below the lower eyelid; the lung meridian is represented in the upper cheeks; and the frown line at the brow is linked with liver health.
By inserting ultrafine acupuncture needles into those areas, it creates a 'micro trauma' that triggers an increase in blood flow and promotes collagen production, says Tam on her website.
What can I expect from cosmetic acupuncture?
You can expect to see an improvement in all of the following: fine lines and wrinkles, acne scarring and pitting, sagging and drooping skin [as well as] dryness, flakiness and uneven skin tone.
How big are the needles?
"Facial acupuncture needles are finer, sharper and smoother than the regular acupuncture needles," says Tam. "They also have a special silicone coating on their medical grade stainless steel to make for a smoother, painless insertion and make them hypo-allergenic."
How much does cosmetic acupuncture cost?
The range will vary depending on the practice and your location. An initial consult, which will last around 60 minutes, will cost upwards of $95 and around $80 or more for follow-up visits. Accredited practitioners may offer health fund rebates.
Is acupuncture good for weight loss?
A study reported in the Macedonian Journal of Medical Sciences showed that acupuncture in combination with a diet restriction was found to be effective for weight loss. But it's good for so many other things too.
A study in the British Medical Journal reported an improvement in chronic lower back pain with acupuncture, and there is much evidence to support the use of acupuncture in treating anxiety, depression and fertility issues.