Meet Dr Belinda Tran
Registered Acupuncturist
Dr Belinda Tran (Registered Acupuncturist) has always been passionate about
providing her clients a safe, natural, effective alternative to western medicine.
From a young age she always knew she wanted to work in the health
industry, and when she discovered Chinese Medicine and its philosophies of treating the body as a whole system and not just its presenting symptoms, it resonated with her and she knew she had found not only her career but a healthy way of life.
While Belinda treats all kinds of conditions, over the years she has gravitated towards womens health and has helped countless women regulate their cycles, have less painful periods, fall pregnant, have healthy pregnancies, and relieve the discomfort of menopause. Nothing gives Belinda greater satisfaction than helping these women achieve their health goals without having to rely on medication. She is constantly amazed at the body's ability to heal itself, if given just a little nudge from Acupuncture and herbs!
From her experience treating so many women, Belinda noticed another area that was in demand – natural skin care and anti-aging. This prompted her to learn more and so she attended one of Vivian Tam's seminars. From there, the curiosity turned to inspiration and Belinda has gone on to further her learning and apply it in practice, seeing amazing results in reducing fine lines, pigmentation, moistening dry skin and rejuvenating a dull complexion. Again, Belinda absolutely loves being able to provide a natural alternative to the more invasive procedures out there, and remains in awe of how the body can repair itself.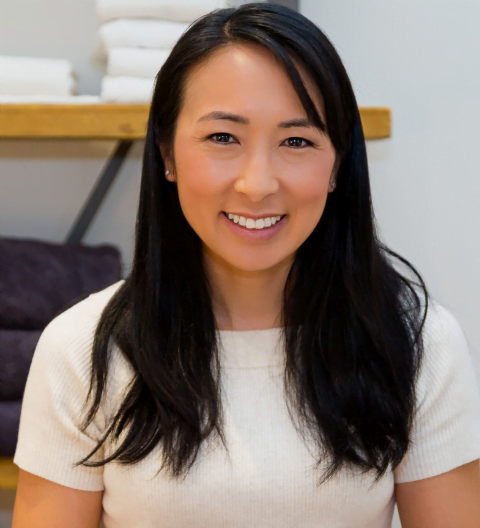 Belinda completed a Bachelor of Health Science in Chinese Medicine from Victoria University of Technology in 2005. She is an Accredited Member of the Australian Acupuncture and Chinese Medicine Association (AACMA) and registered with the Australian Health Provider Regulation Agency (AHPRA).
This means you'll receive the highest and safest levels of service with the best possible results. Dr Belinda Tran is so happy to be joining the team at Cosmetic Acupuncture Melbourne and continuing her work – helping women to look and feel their very best.
Things Belinda loves to treat outside of facial acupuncture:
Fertility
IVF assistance
Pregnancy related issues (morning sickness, breech/posterior presentation, labour preparation and induction)
Menopause
Period pain
"When people ask me why I got into Chinese Medicine, sometimes it's hard to sum up in a quick sentence or two.
The human race has obviously existed, survived and thrived for thousands of years, many of which were without the help of modern medicine. That's why it made sense to me that an ancient natural therapy like Chinese Medicine would be such an effective tool to apply in everyday life. If it worked for people thousands of years ago, why wouldn't it work for us now? Especially with the modern way of life causing many of our modern health problems – prolonged sitting, staring at computer screens, long work hours, unhealthy diet, high stress, lack of sleep… Sometimes the solution is as simple as finding a healthy balance, focussing on what we do to, and put into, our body, and resetting. That's what Chinese Medicine is all about.
Being Asian myself, people often assume that Chinese Medicine was passed down to me through the generations. Sadly I don't have any romantic back story like that! But I do have memories of my parents cooking up strange concoctions in the kitchen to help with whatever ailment they had at the time. Chinese Medicine wasn't taught to me directly, but it had a strong influence in our culture and how we lived our life, such as protecting ourselves from the cold, the use of ginger to warm & nourish from within and getting adequate rest when unwell.
I completed my Bachelor of Health Science in Chinese Medicine in 2005 and started practicing the following year. From the get go I absolutely loved being able to help people with their aches and pains without the use of drugs, but the impact of my work didn't really dawn on me until one day I treated a lady's frozen shoulder. She had suffered for years and tried many things, none of which gave her any relief. After her first treatment with me, she came out of the room with her mouth hanging open in disbelief as she rotated her arm around without any pain! She could barely even complete the payment transaction because she was so distracted by her lack of pain and kept looking at her shoulder as she rotated it around! I'd never felt so happy.
Over the years I grew as a practitioner and, I think as I became a mum, I became more aware of the struggles that couples face. I was only too familiar with the emotional rollercoaster that couples go on when trying to conceive, and the myriad of complications that can contribute to infertility. So it gave me an amazing sense of satisfaction and gratitude when women would email, call, hug me in person, and credit me with their pregnancy. It's a feeling I can't even put into words, but it's why I love what I do."